譚平作品室內效果圖
Interior effect image of Tan Ping's artwork
譚平的作品具有強烈的「無目的的合目的性」特徵,非常強調潛意識行為在創作過程中的作用。藝術家在繪畫過程中,不斷簡化與藝術表達無關的元素,直至拋棄物象,走向純粹抽象。同時,他關注抽象繪畫背後的觀念,使作品本身呈現更清晰的價值觀。

Tan Ping's artwork has a strong feature of "no purpose coincides with the purpose" which emphasizes unconscious behaviours. He is especially good at minimizing elements until he totally abandoned objects and moves towards pure abstraction. At the same time, to empower clearer values in his artworks, Tan Ping pays a lot of attention to the concepts behind the form of painting.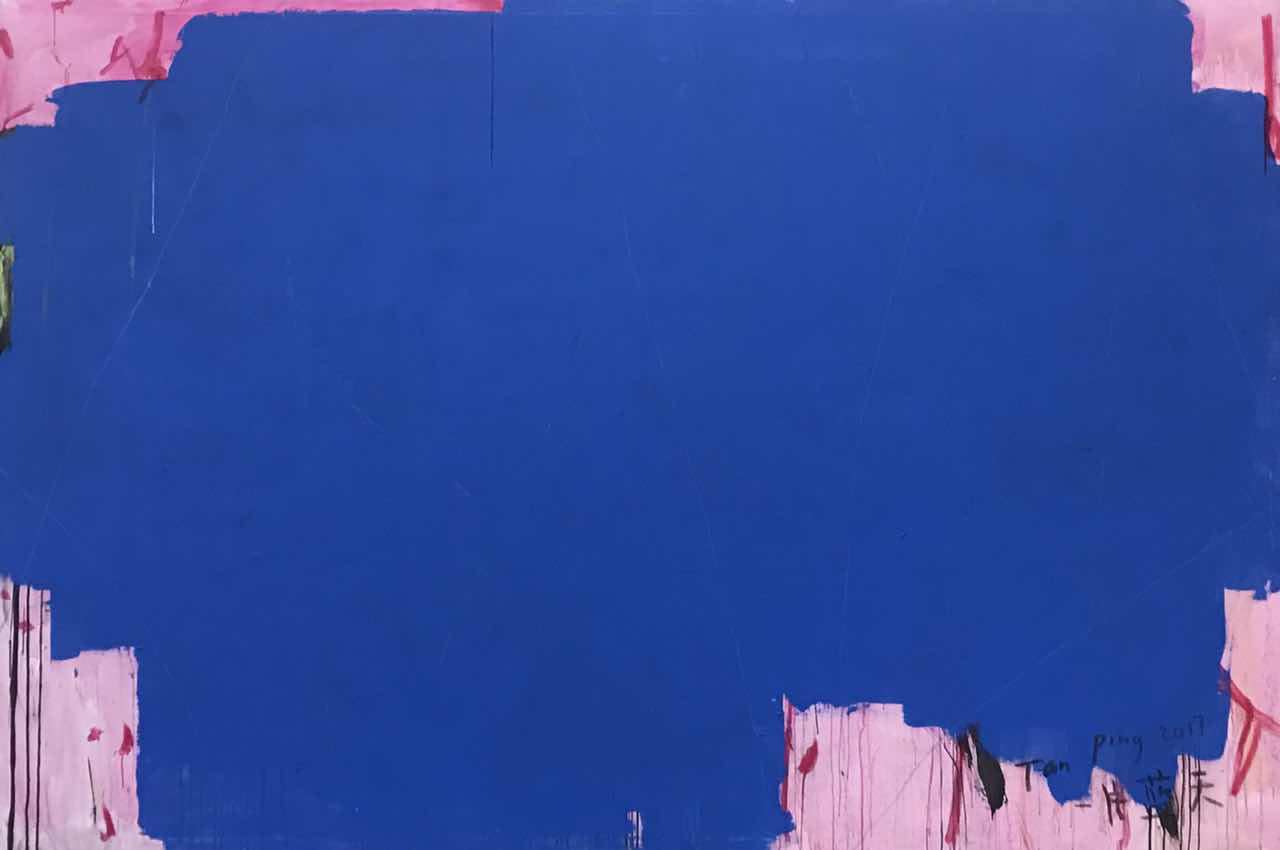 一片藍天|譚平|布面丙烯|200x300cm|2017
A Blue Sky | Tan Ping | Acrylic on canvas | 200x300cm | 2017
"覆蓋"是譚平的抽象作品中的顯著標誌,成為了他私人的方法論,更使得他的創作具有了表演性的維度。在色彩不斷疊加、印製的過程中,繪畫的表現力有了更多不確定性和瞬時性,最終成為對整個時間、空間的整體體驗。譚平的作品時刻處於未完成和重新開始的狀態,即便是看似已經完美完成的一幅畫面也存在被顛覆的可能性。這種反復無常的覆蓋是一種極端形式的摧毀,更是一次次對過去的對抗,令麻木的思想與靈魂得到重生。

"Covering" is one of the typical features of Tan Ping's art creation. The way he applies the technique of covering has become a new methodology of himself, which gives his artworks the dimension of performativity. During the process that the colours are covering each other, the expression of the painting are gaining more uncertainty and temporality. Eventually, Tan Ping's painting became a comprehensive experience of the whole time and space during the creation of art. It could be said that Tan Ping's artworks are in the condition of un-finishing and restarting. Even if the whole piece of art looks totally completed and visually well enough, it still could be fundamentally subverted by the action of covering. The behaviour of covering is not only an extreme deconstruction but also a brave resistance to the past during which the numb thoughts and souls were stimulated and re-born.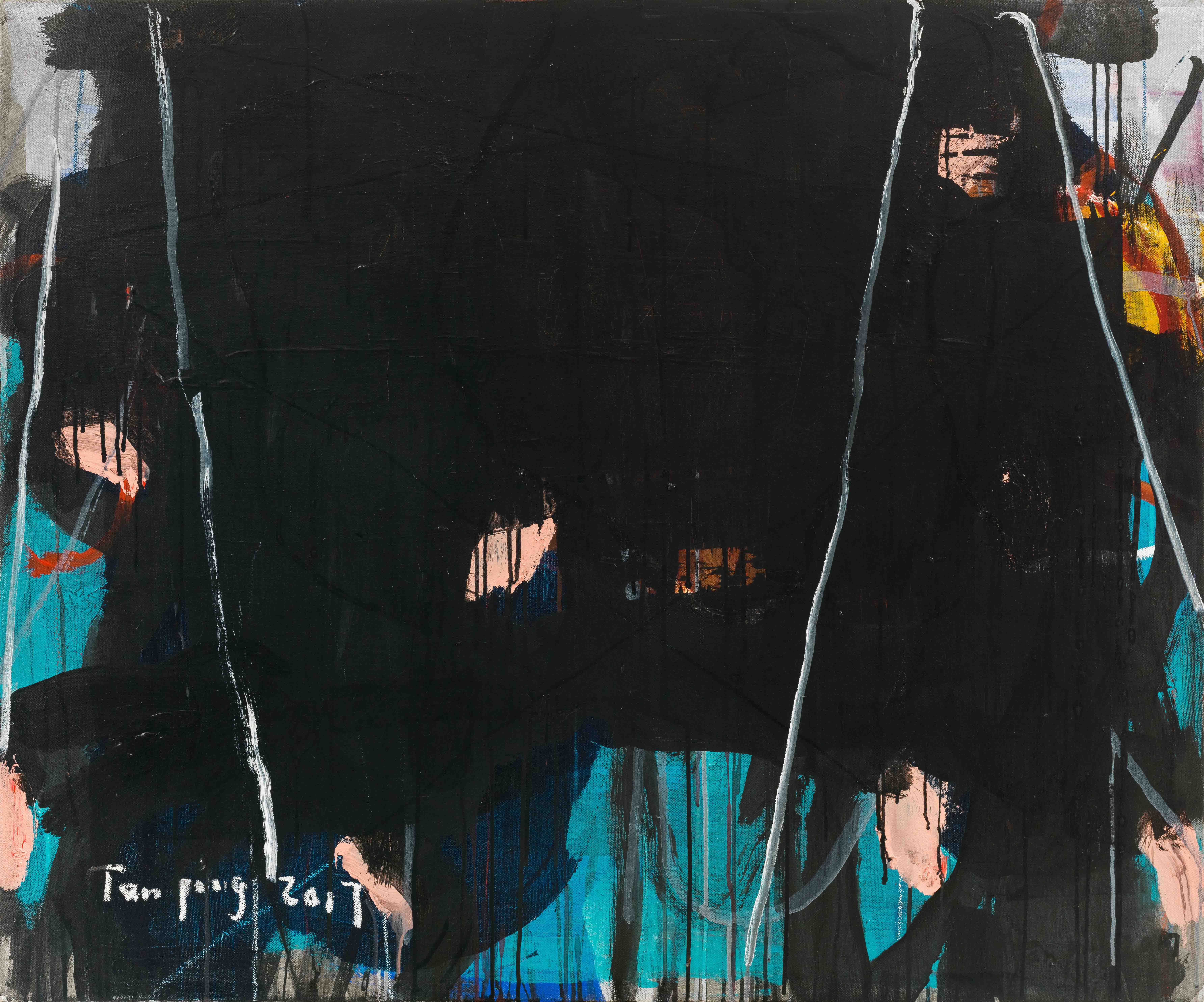 無題|譚平|布面丙烯|100x120cm|2017
Untitled | Tan Ping | Acrylic on canvas | 100x120cm | 2017
痙攣系列是譚平最著名的藝術系列之一,作品主題與他的個人經歷和隱秘情緒息息相關。「痙攣1號(2008)」顯示了一種狄奧尼索斯式的精神,大膽地去解構甚至摧毀理性觀念。痛苦、混亂和醜陋,這些典型的反現代性態度,蘊藏於畫作中被抽象化的癌細胞,訴說著並不美好但極盡真實的生命體驗。譚平父親曾生重病而後戰勝病魔,這次驚險的經歷給了他巨大的打擊與震攝,成為了他心頭無法抹去的沉痛記憶,也作為他藝術創作的主題之一被永遠銘記。

Cramp series is one of Tan Ping's art series that is closely related to his personal experience and private feelings. It shows a spirit of Dionysus-styled deconstruction of rationality. Pains, chaos, and ugliness, a typical anti-modernity attitude showed through the abstract cancer cells in the painting "Cramp No.1 (2008). The previous sickness of his father became permanent and heavy memories in Tan Ping's life.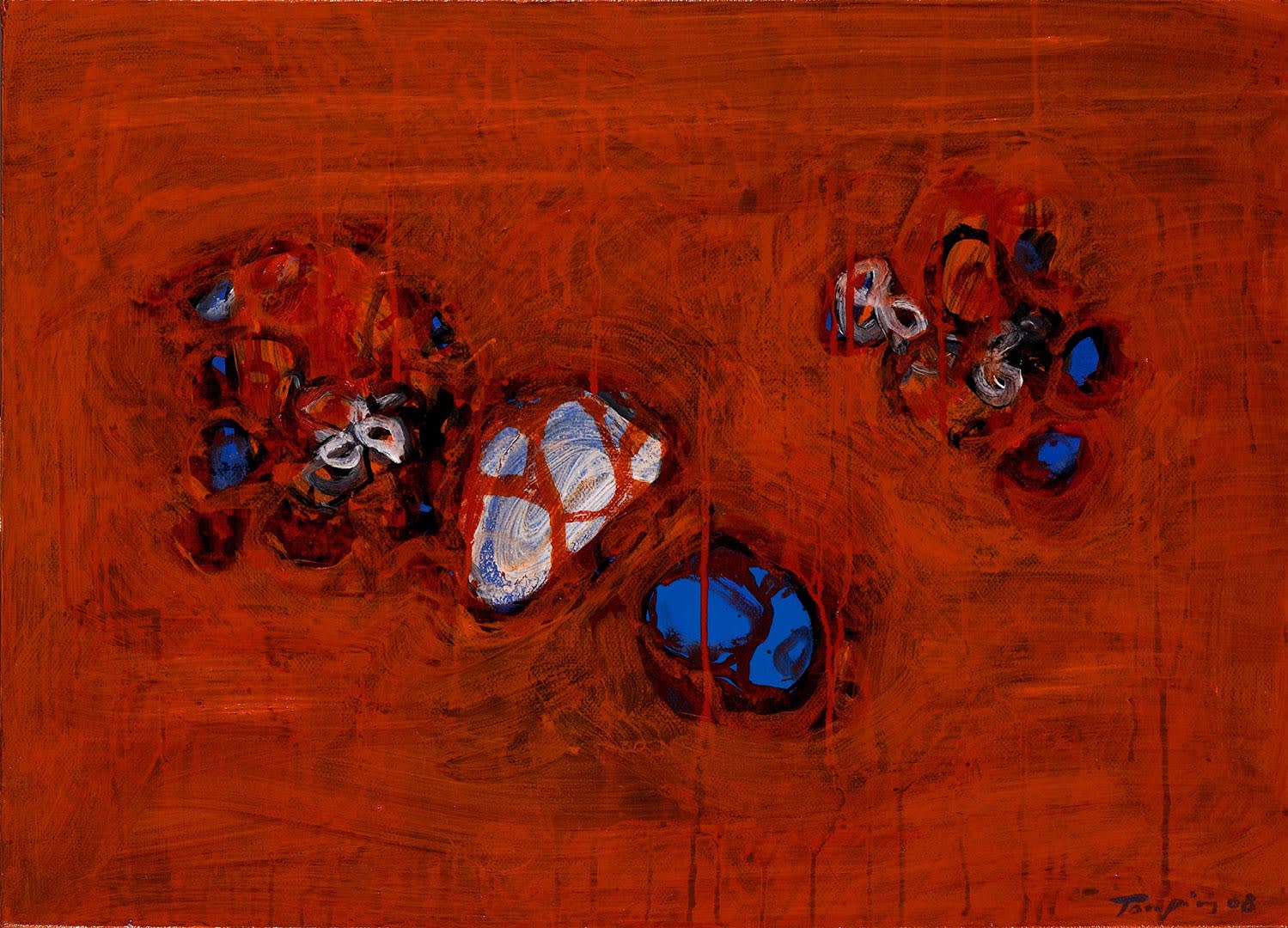 痙攣1號|譚平|布面丙烯|50x90cm|2008
Cramp No.1 | Tan Ping | Acrylic on canvas | 50x90cm | 2008
作為藝術家,譚平選擇用在藝術創作中不斷回憶疼痛經歷的方式來進行紀錄,來應對內心的複雜情緒。譚平的作品,越是展現人類日常生活不夠美好的方面,就越能向觀眾傳遞出深刻的信念與反思。最終,每個人都將擁有面對世間最殘酷的真理的勇氣。

As an artist, Tan Ping chose to remember the most painful experience in his own creation of art. The more he expressed the unpleasant parts of human beings, the more reflection of humanity could be conveyed to viewers. Eventually, we will all get the courage of facing the cruellest truth.
---
Tan Ping creating in his studio
藝術家簡介
---
1960年出生於河北承德市,藝術家,教育家,現為中國藝術研究院教授,博士生導師。1984年畢業於中央美院,八十年代末期前往柏林藝術大學自由繪畫系學習,獲碩士學位和Meisterschule學位。英國金斯頓大學榮譽博士。曾參與籌建中央美術學院設計學院,並成為第一任院長,2003年成為中央美術學院副院長,2014年調任中國藝術研究院副院長。譚平被譽為中國抽象藝術的領軍人物,當代中國藝術設計學科的拓荒者、中國實驗藝術學科發展的推動者。在長達40年的藝術實踐中,譚平不間斷地探索及變化於繪畫、版畫、多媒體、裝置藝術等領域。作品被中國美術館、上海美術館、波特蘭美術館、路德維希博物館、亞利桑那州立大學美術館等國內外重要機構收藏。
Tan Ping, born in Chengde, Hebei in China, is an artist and educator who currently serves as a professor in the Chinese National Academy of Arts.
Tan Ping graduated from the Chinese Central Academy of Fine Arts in 1984, studied in Germany in the late 1980s, where he earned a master's degree and a Meisterschule degree. He also received Doctor of Honor from Kingston University, UK.
Tan Ping served as president of the School of Design in the Chinese Central Academy of Fine Arts, and he became vice president of the same institute in 2003. In 2014, he was appointed as vice president of the Chinese National Academy of Arts.
Tan Ping is known as the leading figure of Chinese abstract art, pioneer of the contemporary Chinese art design and promoter of the development of Chinese experimental art. In his 40 years of artistic practice, Tan Ping has always been exploring multiple fields such as painting, printmaking, multimedia, and design. He joins the many nodes of contemporary art into one through his ceaseless changes and powerful creations.
Tan Ping's artworks were collected in many significant institutions including:
National Art of China, Beijing (China); Portland Art Museum, Portland (USA); Ludwig Museum, Aachen (Germany); Shanghai Art Museum, Shanghai (China); Museum for Modern Visual Arts, Kolding (Denmark) and more.